Beginner Panel Guide
The Beginner Panel Set comes with 40 panels in 30 panel varieties.
The panels have pictures on them with matching program data that KUMIITA Unit reads and then executes.
(Have a little fun with the panels here on the site!)

Start x1
Here we go! The adventure starts with the go signal! With the start tone, KUMIITA Unit will move in the direction of the arrow.

Goal x1
KUMIITA Unit loves reaching the goal! KUMIITA Unit plays a fanfare, blinking blue, red, green and yellow.

Go x6
KUMIITA Unit moves in the direction of the arrow. Enjoy the adventure arranging panels where you want KUMIITA Unit to go.

Spin x2
KUMIITA Unit spins clockwise one time and moves happily on.

Color Branch x4
KUMIITA Unit moves in the same direction as the color of its stripes. Try arranging the panels to have KUMIITA Unit go different directions.

Random x2
A mysterious panel that chooses a Color Change, Instrument or Animal Panel.What will happen? Try it and find out!


Music Replay (1 time, 3 times) x1each
KUMIITA Unit replays the notes it has passed over when coming to this panel. One replay for a single note Note Panel, and a triple replay for the three note Note Panel.After the performance, KUMIITA Unit goes happily on its way. Repeat your favorite sounds with this panel.
Color Change (blue, red, green, yellow) x1each





Choose from blue, yellow, red and green. KUMIITA Unit's stripes will glow the same color!
*Touch these panels to make KUMIITA Unit change color. Now touch the Color Branch Panel and see what happens!
Musical Instrument (piano, xylophone, trumpet, accordion, cymbal) x1each
KUMIITA Unit plays the sound of the pictured musical instrument. When followed by a Music Note Panel, the tone will change. Arrange Music Note Panels for a fun performance!
*Click to hear the sound.

Product Details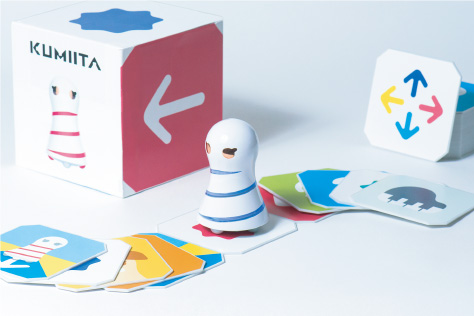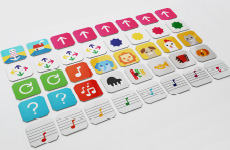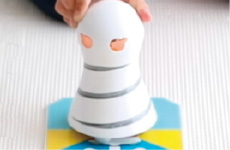 【Set Details】
KUMIITA Unit / 40 panels
Instruction manual / How to play booklet
Size
KUMIITA Unit
Size: Approx. 11.5cm × 16.5cm × 8cm, Weight: Approx. 100g
Panel (1 sheet)
Size: Approx. 120mm × 120mm × 5mm, Weight: Approx. 54g
Main product materials
KUMIITA Unit: ABS
Panels: ABS, polypropylene coated paper, internal magnet
Batteries
Requires 4 AAA alkaline batteries (sold separately)
Hours of continuous operation: Approx. 6 hours

FAQ
Before You Buy
4 AAA alkaline batteries (sold separately) are recommended for the KUMIITA Unit.
Approximately 6 hours of operation.
Product is not waterproof.
KUMIITA passed the safety standards of the Japan Toy Association to obtain the "ST Mark" (Safety Toy Mark) certification.



Product is made from materials that are safe even if licked, and food sanitation inspection was passed.
After You Buy
When KUMIITA Unit veers off course, it will blink red and chime an error sound.
When KUMIITA Unit's batteries are running low, it will blink red and yellow, and notify you by sound.

Always start KUMIITA Unit on the Start Panel.
To experience the fundamentals of programming, KUMIITA Unit must always be set on the Start Panel to begin.

Pick up KUMIITA Unit and hold for 2 seconds, then set on the Start Panel.
KUMIITA Unit has three volume levels: loud, medium and quiet.
Printed on the instruction manual (included) are icons to adjust the volume. These icons are located on the lower right back side of the instruction manual.
Pass KUMIITA Unit over these icons and a sensor on the bottom of KUMIITA Unit will read the icons and adjust the volume accordingly.
There is also an inset volume switch located on the bottom of KUMIITA Unit. Push with a thin, pin-like object to adjust the volume.

KUMIITA Unit is equipped with an auto power down feature that will give a chime notification then automatically shut OFF the power when KUMIITA Unit is at rest for 3 minutes with the power switch in the ON position.
If KUMIITA Unit automatically powers down, set the power switch located on the bottom to OFF and then back to ON to restart.

If you think KUMIITA Unit's movement has become erratic, check the rollers (the ball parts that let KUMIITA Unit move).
Moving them around with a finger, check for dirt, dust and grime. If the rollers appear dirty, clean by removing or wiping off unwanted material.
The program data is imprinted on the panels.
If the panel surface becomes dirty, wipe clean.
Please note that the panels may become unreadable if scratched or dented, so please use with care.