[Until 8/31] KUMIITA official SNS present campaign! Launching on KICKSTARTER!
Launching on the second KUMIITA kickstarter, a present campaign is being held on the official SNS! 
Campaign period: August 22, 2019 (Thursday) to August 31, 2019 (Saturday)
Present: Mini Beginner Set for a total of 4 people
[Kumita unit, 20 panels (start / goal each panel 1 pcs, beginner panel 18 pcs)]

For Instagram
1. Follow KUMIITA's official Instagram ( @kumiita_toy )
2. Like the campaign announcements post!
▼ Contact
Winners will be contacted via each SNS direct message.
The details are at the bottom of this page ↓
[World's No.1 crowdfunding site]

■ Period: From Sunday, August 11, 2019 to Tuesday, September 10, 2019, 18:30
■ Target amount of money 1.5 million yen
Before the nationwide sales schedule on September 20, 2019, we are giving the opportunity to purchase with great appreciation to everyone who can support us as soon as possible. When support totals over $ 14084 (1,500,000 yen) in total in the world's No. 1 crowdfunding site Kickstarter, all supporters can receive products at a special price. (If the target amount is not reached, the campaign will be canceled and the support will not be charged)
■ Support part introduction
"KUMIITA logical thinking skill up set (40 panels and KUMIITA unit)"
50% off 27,000 yen is already sold out, thank you (remaining 0 out of 10)
45% off ¥ 29,700 Limited quantity (15 remaining out of 25)
…
■Detail URL: https://www.kickstarter.com/projects/iconcorp/kumiita-educational-toy-new-logical-think-skill-up-kit?ref=6iewyu
Please support us on Kickstarter until September 10th! !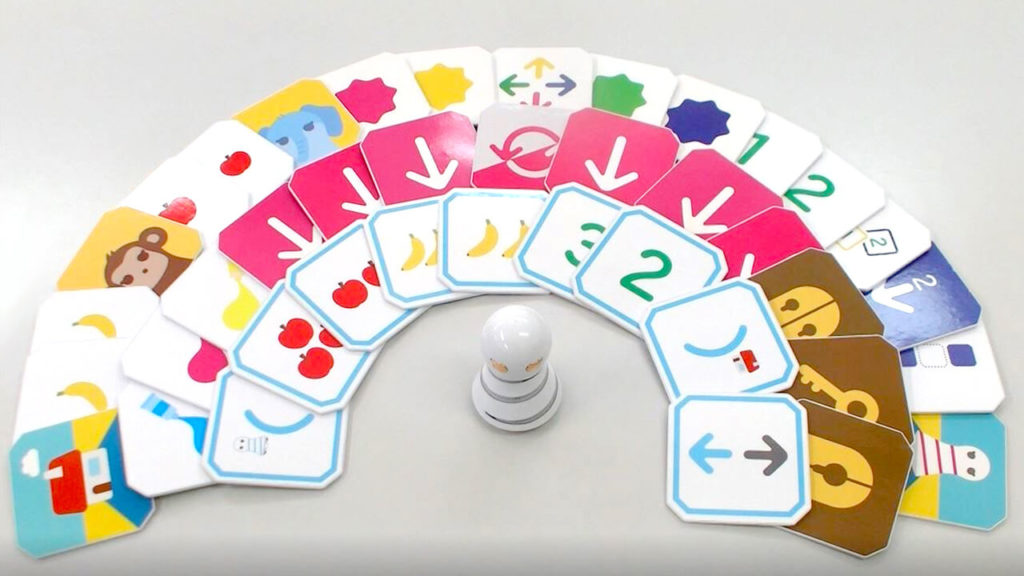 A complicated program to learn programming while playing and see "what is happening". Following the "beginner set" for 0 years (7 months) to 5 years old [New product] The main body and panel 40 panels set for 4 to 12 years old, a new expansion panel that can make complex movements. You can express and experience every process of the program. We have prepared a panel that allows children to naturally develop programming thinking skills and logic while satisfy their desires.
[New product] Programming thinking skill up set 40 panels for ages from 4 to 12 years old
Suggested retail price:50,000 円(tax excluded)
Click here for product details page
Present Campaign Guidelines
Qualification requirements
★ Those who have Twitter and Instagram accounts and are not set to be private
★ Those who have followed or have been following Kumiita official account (@kumiita_toy)
★ Those who agree to the campaign precautions
Application period
From August 22, 2019 (Thursday) to August 31, 2019 (Saturday)
Lottery / announcement / delivery of gifts
After the campaign ends, the winners will be contacted in the beginning of September 2019 after a strict lottery.
Only winners will be notified by direct message from the official account (@kumiita_toy).
Please note that if you are not following the official account (@kumiita_toy), you will not be able to contact the winner.
You will be informed of the information entry form required for the prize shipment when you contact the winner.
Prizes are scheduled to be shipped around late September 2019, but please note that shipments may be mixed for various reasons.
Campaign notes
★ Please note that we cannot answer inquiries regarding winning results.
★ The prizes won cannot be exchanged, redeemed, or transferred.
★ If the winner is unable to deliver the prize due to an unknown address, the winning will be invalid.
★ There is a deadline for replying to the winners. If you do not respond by the deadline, your winning will be invalid.
★ The prize recipients are limited to the address of the applicant.
★ If an applicant applies for the campaign, it will be deemed that he has agreed to the application guidelines and precautions.
★ Please be aware that we are not responsible for any trouble caused by posting.★ We are not liable for any damage suffered by applicants in the event that the offer of this campaign is interrupted or delayed due to communication equipment, communication line, SNS system failure, traps, etc. Please understand.
★ If an application is made using an unauthorized account (fictitious account acquisition, impersonation of another person, possession of multiple accounts, etc.) that violates the rules and policies of each SNS, Applications may be invalidated.
Disclaimer
★ We do not accept selection methods, confirmation of application acceptance, questions or inquiries about winning or losing.
★ This campaign is not related to Twitter or Instagram.
★ We are not responsible for any damage caused by the suspension or cancellation of the campaign.
★ The contents of this campaign are subject to change without notice.